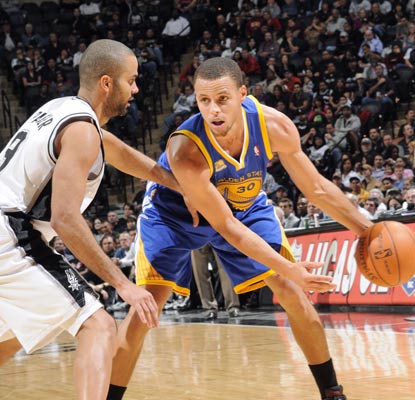 The Dubs advanced to the second round of the playoffs after beating Ty Lawson and the Denver Nuggets in six games. Their semifinals match-up with the San Antonio Spurs begins Monday, May 6th, in San Antonio.  With this win and the success throughout the season, the Warriors have redefined what it means to earn the right to be an All-Star, but will their star, Stephen Curry, continue to deliver?
During the regular season the Warriors and Spurs met four times, each team took advantage of home court and defeated their visitor, leaving the series tied 2-2. But three of the Spurs' leading scorers were not active during all four games. On April 15th Tim Duncan, Parker, and Ginobli were inactive during their biggest loss at Golden State this season.
Beating the Spurs without Duncan, Parker, and Ginobli, isn't really beating the Spurs. The Spurs are the most consistent team in the NBA, beating them is only relevant when all starters and clutch players are active. If the Warriors beat the Spurs in a playoff series, they will prove that their wins during the regular season weren't luck, and a playoff series is the biggest platform to sway naysayers.
Proving themselves requires the Warriors to erase nearly sixteen years of history. The last time the Warriors beat the Spurs in San Antonio was in 1997; the same year Tim Duncan was drafted.
The Nuggets aren't the Spurs. Escaping a defeat by the Nuggets doesn't mean that the Warriors are prepared to face the best team in the western conference. Jared Jack can hang with Manu Ginobli, no question. And Curry can guard, shoot over, and outscore Tony Parker. But can an injured Curry be as productive?
The Spurs aren't in the way of the Warriors reaching the western conference finals, INJURIES are.
The loss of David Lee didn't negatively affect the Warriors' game; Andrew Bogut stepped up and performed well enough for us to forget that Lee was absent. But an absent Lee doesn't compare to an absent Curry. Expecting an All-Star performance from a day-to-day Curry  could end in disappointment.
The Warriors success throughout the remainder of the playoffs will depend on Jared Jack's leadership and  hisability to step up in Curry's absence. By acknowledging Curry and witnessing his progression, Jared Jack has been overshadowed and ignored; Jack is an even bigger underdog than Curry.
This group of Warriors is often compared to the Believers of 2007; the team, led by Baron Davis, advanced to the second round of the playoffs after defeating the number one seed Dallas Mavericks. But the Warriors aren't mimicking their past. They're starting a new era, with a team that has depth, dominance, and cohesiveness.
After upsetting the number three seed in the west; defeating the number two seed is possible, right?Afterall, it's the playoffs. Anything can happen.