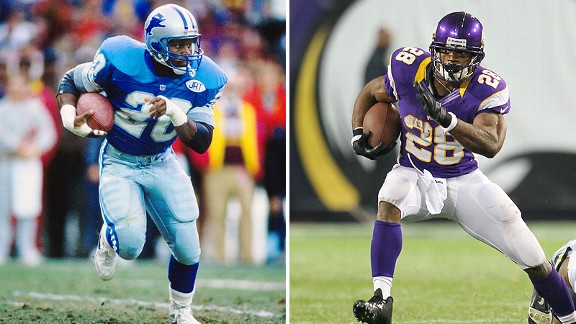 The reigning Offensive Player of the Year battles the most elusive runner in NFL history for the Madden video game cover. Adrian Peterson and Barry Sanders are two names that spark debates when discussing the best running backs of all time. Although appearing on the Madden cover is an honor, it's also a curse. Despite the possibility of the 'Madden curse' (a curse that Sanders started), Adrian Peterson is ready for the privilege to honor the cover.
"…you always think about those things [growing up]," Peterson told KFAN radio. "The Madden cover, the Wheaties box…it's something that I definitely grew up and was like, 'hey, I want to be on the cover of that one day.' So if it takes place and I win, it will be a privilege."
Gracing the cover of the video game isn't just something that current players envision. Legends dream of the opportunity, too.
"Wow. Just wow," tweeted Sanders, acknowledging his victory over Jerry Rice in the Madden Cover voting. "I can't believe I won, I can't believe I beat @JerryRice THE Jerry Rice. Thanks [to] the fans. This is all you guys."
THE Jerry Rice is right. Beating out the best wide receiver of all time makes a statement, one that younger voters may not understand. Since Peterson is more relevant to the younger crowd, he has a major advantage. Older NFL fans are aware of Sanders' accomplishments, and may even remember exactly where they were when Sanders became the third player to rush for 2,000 yards.
But the 90's babies that will most likely determine the winner don't know enough NFL history to understand the significance of Sanders' accomplishments. Even Sanders is aware of Peterson's advantage.
"Now I have to face my favorite player in the game right now [Adrian Peterson]. That's going to be tough. I'm sure Adrian is everyone's favorite."
If Sanders wins, it will be the second consecutive year that a Detroit Lion covered Madden (Calvin Johnson was honored with the 2013 cover) and the second time Barry Sanders was honored; he appeared on the Madden 2000 cover.
As legends and future legends continue to be compared, there's always a universal sense of respect that places the older player above the younger player. Sanders should win, but Peterson's unfair advantage may prevent the victory.
The winner will be announced April 24th on SportsNation.