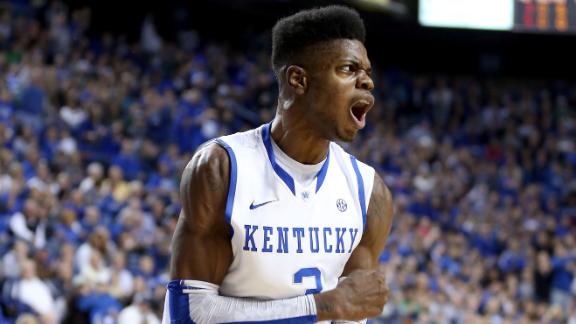 The 2013 NBA draft kicks off on June 27th and will arguably include some of worst prospects in history. With all the hype surrounding Kentucky center Nerlens Noel's injury recovery and NBA potential, the name Greg Oden comes to mind. Could the potential no.1 draft pick be a bust, too? Noel doesn't think so.
"I have no doubt that I will be 100 percent, [and] even better than before," Noel said. "Especially with everything I'm doing now. I'm strengthening everything – upper body, lower body. I'm sure I'll be better than 100 percent when I get back…that'll be around Christmas time."
But Noel isn't the only prospect sparking controversial buzz. According to Jeff Goodman, a college basketball analyst for CBS Sports, Noel is one of many NBA draft prospects that lack star potential.
"There's not a lot of franchise changing guys," said Goodman. "There's not a Kevin Durant, not even maybe a Greg Oden coming out; he was gonna be pretty good if he didn't get hurt. Lot of good players, I think rotation guys…The depth is gonna be strong. Again, I don't know if anybody really wants the number one pick this year. It's probably gonna be Nerlens Noel, Ben Mclemore; I think both will be very good NBA players but again not guys that are gonna save franchises."
Could this year's draft be the worst draft in history?
Before the UCLA Bruins were knocked out of the NCAA tournament in the first round, Shabazz Muhammad was considered one of the top five prospects by analysts across the board. But after a disappointing season, Goodman believes that Muhammad should be happy if he's drafted in the top twenty.
"The one thing with Shabazz Muhammad, he plays hard all the time," said Goodman. "Is he the number one pick, as some speculated going into the year? No. Is he even maybe a top ten pick? I'm not sure…Not a great athlete for a wing, not a great shooter, although he shot about 38 percent from three…A wing that can't shoot as great, that's not a great athlete, [and] that can't guard and move well laterally, how do you take him in the top ten?"
Muhammad's sketchy NBA potential and Noel's projected late rookie debut, brings into question the age requirements of NBA draft prospects.
Will the 2013 draft prospects prove that nineteen is too young for athletes to enter the NBA?
With the exception of the LeBron's, Kobe's, and KG's of the league, age does make a difference in an athlete's abilities, especially when injuries are involved.
When athletes spend more time in college it leaves less room for GM's and coaches to doubt their performance. If Nerlens Noel opted to stay at Kentucky for an additional year or two, and went on to win a championship, he would prove that his injury didn't hinder his abilities.
But since he opted for the NBA draft, his injury and inability to perform until December, prevents him from being able to physically convince teams that he's worthy of a their time and money.
Regardless of his injury, Noel believes that drafting him first will not be a mistake.
"There's no risk at all," Noel said of a being chosen first with the uncertainty of a knee injury. "I definitely have the mindset that I'm going to come back from this…. When I get back, I'm going to be the hardest worker I can be and do what I have to do to be the player I want to be and do good things for the team I get drafted by."